In spite of Zazzle's growing popularity, there are still folks out there who ask me what it is. I thought I'd explain it a bit.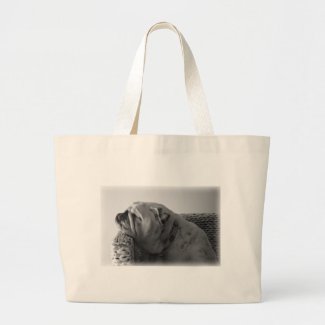 Sleeping Bulldog Tote Bag
by
SpotsDogHouse
See more
Bulldog Bags
Zazzle is a print on demand company. It's main appeal is that you can order as few as one item. Most printing places have a minimum of dozens of a particular design.
You can design your own product or you can buy one that is already designed for you. You can even customize many ready-made designs.
The ready-made products are designed by people like me who group them together in a virtual store. When someone buys a product with my design, I get a royalty. It may be only pennies or a dollar or two but it adds up.
Zazzle offers more than just tee shirts and coffee mugs. There are pendants, trophies, stationary, cell phone cases, mouse pads, jewelry, electronics, housewares, hats, belt buckles and more items than I can list. They come out with new items all the time.
From a few items I've seen they are high quality products. You can read the reviews to get an idea of what others thought.
Zazzle products make great gifts. You can even get awards for your club or activity.
Take a look at my stores at
Ragtimelil
SpotsDogHouse
RagtimelilsMugs
RagtimeStudio